About Us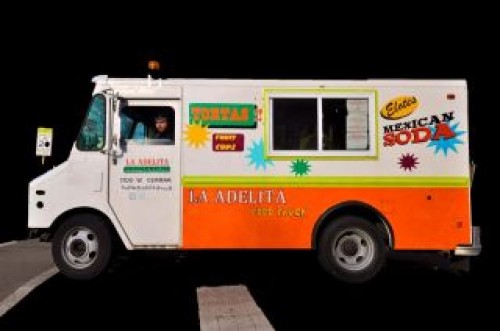 That's the original whip, take it in kids.
Q&A with The Adelita Truck Owner Alexis Vejar
Who is behind The Adelita truck?
The Adelita truck is run by Alexis Vejar and Teddy Vejar who are two brothers from Michoacan. Alexis cooks it and Teddy sells it.
Alexis is an artist with a background in painting.  He's worked almost every job in the food service industry, starting at the tender age 15 making sandwiches at Hero's sandwichshop on the corner of Addison and Western with many, many stops along the way.
Teddy is a cowboy hat wearing foodie with an insatiable appetite for mexican food, its regional variations, and its history. He's also a former locomotive engineer for Union Pacific railroad and was roped into this by his brother after perhaps one too many drinks.
What made you want to start a food truck?
Our family owned a food truck when we where young living in Mexico, in addition to a sandwich shop called Teddy's in the local bus terminal. We love street food and have traveled all our lives to cities that have amazing street food cultures. The main inspiration for all of this was our father. Since the age of 8-9 our father, the original Mexican foodie, took us on month-long culinary road trips though out Mexico teaching us about food and making us eat from every cart, roadside stand, and hole in the wall. We would eat cabrito in the border towns then drive down to Veracruz just so we could say we know what pezcado a la Veracruzana was really supposed to taste like; How you grilled the fish and what ingredients where and weren't traditional. We would drive to Mexico City to havehuitlacoche and flor de calabasa, then to Toluca for a few short hours just so we  could try the neon green chorizo. We've been to almost every state and tried almost every dish imaginable. Even the ones with bugs…yummy yummy bugs.
What was the inspiration for the name of your truck?
The name is the Adelita and, for lack of a better term, she can be considered the Mexican Rosie the Riveter. It was a name applied to all the women during the Mexican revolution who took up arms. It's an ode to the character of the Mexican women (our mothers) who are the backbone of Mexican cuisine. This being a food truck revolution we are experiencing, we figured we better come out guns a blazin'.